"Outlook Not Responding" error has disturbed many users for a long time. In face of it, many people tend to force Outlook to close. But it may damage Outlook file. Thus it is important to know how to solve similar issues correctly. Here are 8 suggestions.
I have been subject a lot to the issue – Outlook Not Responding. In the past, I was inclined to hard close the Outlook application. But frequent closing Outlook abnormally leads to Outlook corruption. Since then, I have learned to take the following 8 effective methods.
1. End the Hanging Outlook.exe Process
The most common cause is that too many processes are using Outlook. Thus first of all, you can try to kill the stuck and hanging Outlook.exe process. Right click the taskbar and select "Start Task Manager". In the popup dialog, switch to "Processes" tab, select "Outlook.exe" option and click "End process" button.
2. Remove Recently Installed Outlook Add-ins
Though some add-ins can improve Outlook performance, it may conflict with Outlook existing functions as well. Therefore, if you met Outlook Not Responding issue at the first time, you can try to disable the add-ins that was installed recently. Go to "Outlook Options" and on "Add-ins" tab, click "Go' button. In the new dialog, you can remove the add-ins.
3. Examine Antivirus Software
Sometimes out-of-date antivirus software may conflict with Outlook as well. Therefore, you should update the antivirus software at regular intervals. But if Outlook Not Responding error occurs to Outlook, you need to check if antivirus software has conflicted with Outlook or has some incorrect configuration. Depending on different cases, you should make corresponding actions.
4. Reduce the size of Outlook Data File
If Outlook data file stores too much information, Outlook will go through a poor performance. Outlook Not responding issue will take place from time to time. Hence, you need to reduce the file size. Go to "Account Settings" in Outlook. Under "Data File" tab, click "Settings" button. In the subsequent window, you can click "Compact now" button to reduce the file size. Of course, you can opt to split the large file to several small ones, referring to another article – "3 Methods to Split a Large Outlook File into Small Ones".
5. Create a New Outlook Profile
Corrupt Outlook profile is also a crucial factor. In this case, you have to recreate Outlook profile. Go to "Control Panel" and click "Mail" icon. In the new dialog box, click "Show Profiles". Then press "add" button to create profile and reconfigure your email account.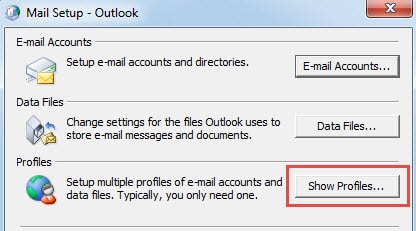 6. Repair Microsoft Office Programs
Provided that some errors occur to Office, Outlook will absolutely encounter "no responding" issue. Therefore, you can repair Office programs to attempt to solve the issue. Go to "Control Panel" and access to "Programs and Features". Locate the Office program and right click it. Select "Change" from context menu. In the new interface, choose "Repair" option and click "Continue".
7. Repair Outlook Data File via Inbox Tool
Outlook comes loaded with a built-in repair tool – Scanpst.exe. It can address this issue by scanning the data file and repairing the relevant errors. But this tool is hidden. You need to search it in Windows explorer. After locating it, concrete operation is much easier. Just follow the instructions.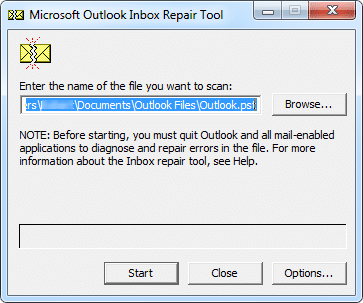 8. Resort to External Repair Tool
Although Scanpst.exe is handy and free, it cannot make effects when Outlook data file is compromised seriously. Thus once the inbox tool failed finally, it is time to resort to external repair tool like DataNumen Outlook Repair. It can scan the file and repair Outlook files in an instant.
Author Introduction:
Shirley Zhang is a data recovery expert in DataNumen, Inc., which is the world leader in data recovery technologies, including sql recovery and outlook repair software products. For more information visit www.datanumen.com