If you open Outlook as usual but an error message "The file Outlook.pst cannot be found" pop up, you can take the following 5 measures to resolve it.
The Outlook error "The file Outlook.pst cannot be found" can arise from a variety of errors. In conclusion, the 4 primary causes are the faulty location of PST file, oversized PST file, bad sectors on the hard disk as well as the corrupted PST file. Depending on the different reasons, you can take the solutions as followings.
1. Relocate the PST File Manually
Now that Outlook prompts you that the PST file cannot be found, what you ought to do at first is to find the file and relocate it manually.
For a start, go to "File" menu and click on "Account Settings" button.
Then in the window of "Account Settings", switch to "Data File" tab. Select the default PST file and click "Open File Location" button.
Next in the popup windows explorer, verify whether the PST file is still over there. If not, you need to search the file name to locate it.
Finally depending on the above two cases, take the corresponding measures. If you find the file in other locations or renamed, you can directly delete the original PST file and re-add the new one in "Account Settings" window.
2. Reduce the Size of PST File
Provided that the PST file is in the correct location and re-adding doesn't make effects, you need to consider other roots, such as oversized PST file. Though the new Outlook versions have no manifest size limits, errors will occur frequently when too much data are stored in one PST file. Therefore, you should reduce the size of PST file.
You can utilize Outlook inner function of "Compact Now" in file properties. Alternatively, you can also split the large file into several small ones, about which you can refer to another article in our blog – "3 Methods to Split a Large Outlook File into Small Ones". After reducing its size, you can try again.
3. Run CHKDSK to Fix Bad Sectors on Hard Disk
Apart from the above two causes, there is another potential problem, namely bad sectors on hard disk. Due to the fact that we often install and uninstall a great number of 3rd party software on our computer, it will be extremely possible that mounting bad sectors appear on the hard disk. If several bad sectors exist on the disk where the PST file is located, the error "The file Outlook.pst cannot be found" will pop up as well.
Under this circumstance, you can utilize Microsoft internal utility, namely CHKDSK to fix bad sectors. Go to start menu and type "cmd" in the search field. Then press "Enter" to run command prompt. Next in the subsequent window, enter chkdsk and relevant command lines to fix disk errors. After the fixing process is complete, you can restart Outlook to check if the error disappears or not.
4. Repair Corrupted PST File by Scanpst.exe
However, if the file is not lost or renamed, or no errors exist in hard disk, it must be that the PST file is corrupted. Therefore, in this situation, you can apply Outlook inbox repair tool to repair it. Search "scanpst" in explorer to find this tool. After launching the tool, click "Browse" to select the file and "Start" button to repair it.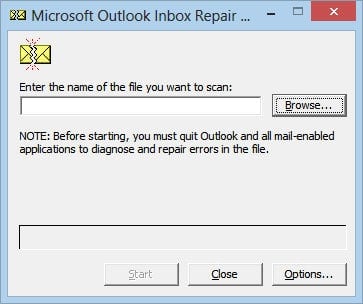 5. Opt for another More Effective Repair Tool
Supposing that the inbox repair tool also fails, it is time for you to pick out a more powerful repair tool, like DataNumen Outlook Repair. It can repair even severely compromised PST file like a breeze. Moreover, owing to its high recovery rate, it has been miles ahead of its rivals.
Author Introduction:
Shirley Zhang is a data recovery expert in DataNumen, Inc., which is the world leader in data recovery technologies, including sql recovery and outlook repair software products. For more information visit www.datanumen.com